Health and Safety

SO I CAN GET HOME FEELING GREAT
Our team will happily show you around, and point out various safety measures, but it is worth taking a few minutes to familiarise yourself with what's in place and the location of the emergency exits.
ONE EYE OPEN
When our gyms are unsupervised we will always be on hand to help. Our gyms have 24/7 CCTV systems which are monitored by a dedicated team, who will routinely check in on the gym and your safety.
FIRST TIMERS
We have all got to start somewhere right? If it is your first time in The Gym Group, or even if you're just a bit unsure, you can speak to a member of staff, who will be happy to help.
FIT & HEALTHY
It's important that you're well enough to train in The Gym Group. If you have a health condition or disability that may put you at risk, then you need to let The Gym Group Team know. They may ask you to seek medical advice before allowing you full access or ask to complete a health assessment/personal emergency evacuation plan with you.
TOP NOTCH KIT
We offer top notch kit in all of our gyms, up to 170 pieces to be precise. If you'd like a quick demo then all you have to do is ask, we'll be happy to show you. If a member of our team isn't available to assist and you are unsure on how to use a piece of equipment then perhaps try something you are more comfortable with until you've been shown.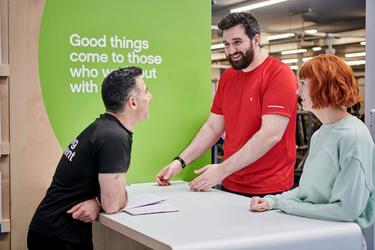 1/4
SO WE CAN ALL BE IN SAFE HANDS
As our gyms are open 24 hours a day, 7 days a week, there may be times our gyms are unsupervised by employees but are monitored remotely.
We want to ensure that anyone who visits our gyms regardless of the time of day, are kept safe, so we have several measures in place to help ensure you are safe with us.
EMERGENCY ACCESS
The door next to the portals has an emergency access button should you need to open it in a hurry, like to let in a paramedic. But please ensure you only use this in an emergency.
NEED SOME ASSISTANCE?
Our dedicated monitoring team are on hand 24 hours a day if you need help, feel unwell or are generally concerned about your wellbeing. Just give them a buzz via one of the red call points.
FIRE SAFETY
If you discover a fire it's important that you hit one of the red break glass points and make your way to the nearest fire exit. We all like to get into the zone with our favourite music but make sure you keep one ear open for the fire alarm.
SAFETY STATION
All our gyms have a Safety Station for use. Your gym location is also displayed on the Safety Station, so if you need to call the emergency services or use one of our help points just give the operator the gym's 'what3words' location.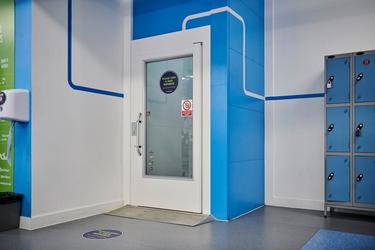 1/4
IMPORTANT INFORMATION:
We've answered our most common queries in the FAQs. If you can't find the answer you're looking for, feel free to Contact Us so that we can assist you.

You can also reach out to our staff in your local gym, who will be happy to assist you.