Gyms in Norwich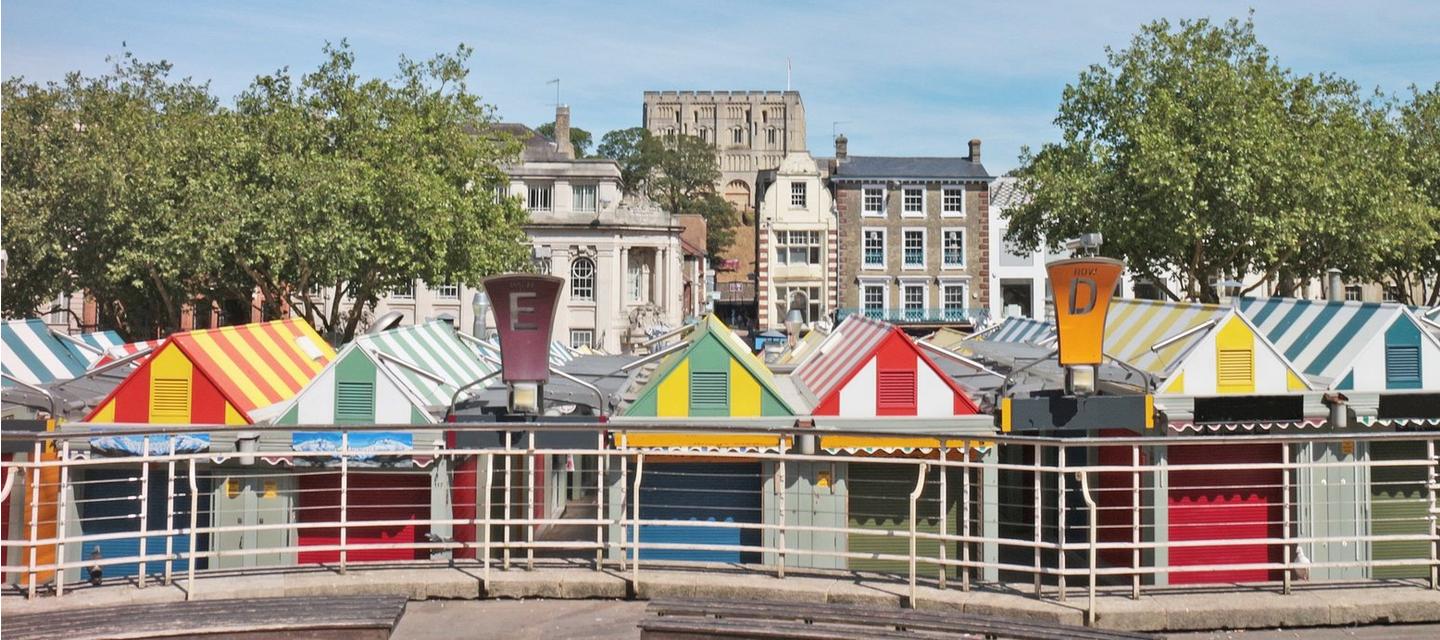 Norwich Gyms
PRICES FROM £12.99 PER MONTH
Open 24/7. No contract. From only £12.99 a month. Join The Gym Group in Norwich today and find your fit.
With two state-of-the-art and accessible gyms to choose from, there's no place in Norwich quite like The Gym Group to help you reach your fitness goals.
We know you have a busy schedule, which is why our Norwich gyms are open round-the-clock and are in convenient and easy-to-reach locations around the city. They're also near to key commuter and public transport routes to help fit into your daily routine.
All our gyms are stocked with state-of-the-art equipment including cardio, resistance, and weight machines. We also offer a wide selection of classes and have Personal Trainers available to help you find a fitness routine perfectly tailored to your goals.
We know that having the right environment is integral to a good work out. That's why our Norwich gyms are bright, spacious, and socially distanced to create a laid-back and inclusive atmosphere that helps to keep you motivated. They also feature showers and changing rooms with plenty of locker space to keep your valuables secure.
With flexible membership options starting from just £12.99 a month, The Gym Group is the affordable solution to health and fitness in Norwich.
Visit our gyms in Norwich and find your fit with us today.
LOADING
Our Norwich Gyms
WHAT MAKES OUR GYMS GREAT
State-of-the-art equipment

Showers and changing rooms

Free WiFi
WHAT OUR MEMBERS THINK
It was such a great experience, a lot of likeminded people, supportive and caring. I've learnt a lot and enjoyed as much as I was knocked out after the session! No other gym I recommend then The Gym Group!
I've really enjoyed being a member of the gym. It's helped me keep on track with my fitness goals. It's given me confidence to try new machines, and new styles of training. The PTs are friendly. I find them very approachable. t's a welcoming space which I think anyone can enjoy.
Going to The Gym Group is like going home - it puts me in a really good headspace.
I'm amazed at how clean everything is. The changing rooms are really clean, like really, really clean. Now, all I want to do is shower here! I feel 100% safe and the staff are great, they're doing an amazing job - hats off to them.
2. Is free parking available in your Norwich gyms?
Both of our Norwich gym locations allow members to park for free.
3. What's the equipment in your Norwich gyms?
Our gyms are equipped with top kit such as weight machines, free weights, ellipticals, stationary bikes, treadmills and so much more. Whether you're trying to gain muscle, tighten and tone, or simply live a healthier lifestyle, we have what you need.
4. What is the age limit for your Norwich gyms?
Our doors are open to members ages 16 and up. If you are under 18, you will need to complete a short online induction before receiving your PIN which you will need to get into the gym.
5. Do I need a membership to check out your gyms in Norwich?
We offer day passes which are great for those who would like to try out a location for the day. We also offer a wide range of contract free memberships, please visit our membership prices page to learn more.
6. What are the facilities in your gyms in Norwich?
We offer male and female locker rooms, showers, and drinking fountains dotted around the gym. To learn more about what The Gym Group has to offer, along with our facilities, click here.
7. Is there free Wi-Fi in your Norwich gyms?
Free Wi-Fi is available to all of our members in all of our gyms. Stay connected while you get your workout in, listen to your favourite tunes, log your progress, or catch up on the latest shows.
8. What classes do your gyms in Norwich offer?
We offer a variety of classes, from cardio to strengthening. Each location has a different schedule, to see what's happening at your preferred location, please view and book using this week's class timetable on our website or using The Gym Group App.
9. Is personal training available in your Norwich gyms?
Yes! We have fantastic PTs who will help you reach your unique goals and offer free Personal Training Taster Sessions to new joiners. Whether you're learning your way around equipment or looking to push your performance to the next level, we have a trainer for you. Please visit our Personal Training page to learn more.
10. Do you have lockers in your Norwich gyms?
Yes, you can use any available locker. Please note that you will need to bring your own lock, if you do not have one, you can purchase one in the vending machines located inside of the gym.
11. How busy are your Norwich gyms?
Each location will vary depending on the day of the week and the time of the day you are planning on visiting. To see a breakdown, please visit our gym busyness page.