Resistance Band Workout

Resistance Band Workout
Exercising with resistance bands is a great way to level up your strength training programme—without having to invest in lots of expensive equipment. All you need is a good set of bands, an exercise mat if you like, and a good set of instructions. We've got you covered on that last point. Keep reading to check out our handy beginner's guide to resistance band training at home.
What is a resistance band?
They come in different styles, but essentially, a resistance band is an elastic band you can use when doing strength training exercises. Sets of bands are usually colour coded so you know which band provides which level of resistance; this varies based on brand, but a new set should come with some instructions so it's clear which ones to use. You can purchase bands with or without handles.
Benefits of resistance band training
There are lots of benefits to working out with resistance bands, ranging from fitness to financial:
You'll improve your strength. Working out with bands is a different experience than using free weights. Your muscles will have to work harder to fight against the tension in the band, improving the quality of your strength training.

You can adapt many different exercises to incorporate bands. This not only gives good value for money, but you'll keep your workouts interesting since you don't have to do the same old exercises every time.

They're affordable and accessible. A set of good resistance bands won't break the bank, and they are great for all genders and body types. Just be sure to check your pack's instructions so you use the correct colour band for each exercise.
Our top resistance band exercises
There are so many exercises which you can adapt to incorporate resistance bands. Here are some step-by-step guides to some of the most accessible for beginners:
Lateral Step-Out Squat
You can use bands on a range of squats. Here's how to do the lateral step-out squat.
Stand with the band just below your knees, and bring your hands up against your chest.

Take a wide step to the right, bend your knees, and squat down. Be sure to keep your back in a neutral posture, and keep your glutes and leg muscles tight.

Reverse the motion, keeping your posture neutral as you stand back up and return to your original stance. You've now done one lateral step-out squat!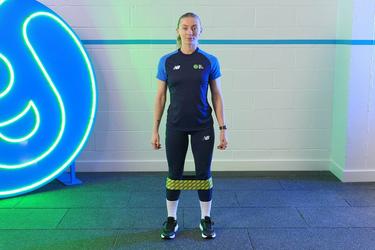 1/4
Resistance Band Deadlift
Don't worry, there will be no lifting of heavy weights in this exercise. Here's how to do a 'deadlift' with a resistance band.
Keep your feet shoulder-width apart, and stand on the inside of resistance band.

Bend down and grip the top of the band with both hands, keeping your spine neutral before pulling yourself and the band back up. Be sure to tense your glutes as you reverse the motion. Repeat the exercise to do multiple reps.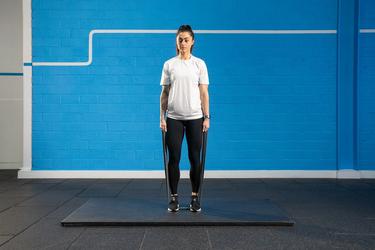 1/5
Banded Row
The banded row is normally done with a barbell, but it works great with resistance bands, too. Here's how to do it.
Stand up straight, with your feet shoulder-width apart and your hands resting on either side. Position the middle of the resistance band underneath both feet, with the end parts of the band sticking out under your feet to each side.

Reach down and grab the each end of the band with an overhand grip, being sure to keep your back neutral as you bend.

Your back should be roughly parallel to the floor. Look down to keep your neck in a neutral position in line with your spine.

Pull the band up, leading with your elbows to mid chest. Tighten your shoulder blades and moving only your arms

Gently lower the band to its original position and repeat. You've now done one banded row.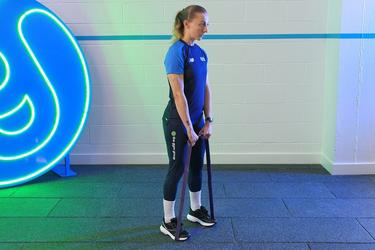 1/6
Other exercises which can adapted to resistance bands
There are plenty more exercises which you can adapt to incorporate resistance bands. Once you've mastered the workout above, why not give these additional exercises a try:
Want to learn more?
Ready to take your fitness game to the next level? Get in touch with our friendly personal trainers at your local Gym, who have the expertise and good vibes you need to craft a personalised fitness plan—and stick to it. Your new fitness journey starts today.
Other Exercises