How to do an Inchworm
How to do an Inchworm
Want to learn how to do an inchworm? This is a fun, exercise, but it's also a great way to warm up for a workout while also targeting all the major muscle groups in the body. Also, it's got a cool name. Keep reading for our step-by-step on how to do the perfect inchworm.
What is an inchworm exercise?
A simply full-body exercise that's often used as part of a warmup routine, the inchworm is a great low-impact exercise to target a variety of muscle groups in your body. Best of all? It requires no equipment—just the correct form. Find out how to do an inchworm below.
How to Do an Inchworm: A Step-by-Step Guide
Here's the correct way to do an inchworm.
Stand up straight with your hands at your side.

Keeping your legs straight, hinge your hips so your hands can touch the floor in front of you. Be sure not to move your feet from their original position.

Using your hands as if they were feet, walk your hands forward slowly, going as far as you can. You'll eventually end up in a stretched, extended plank position.

Reverse the motion until your hands are touching your toes, and repeat. You've now done an inchworm!
Inchworms are a great way to warm up the body before a more intense workout, but they're also good stretching exercises in their own right.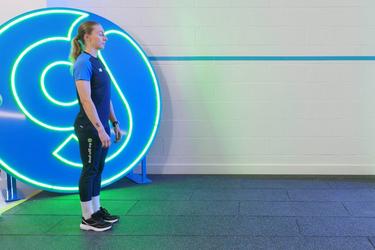 1/8
Want to learn more?
From warmups to workouts, our friendly personal trainers at your local Gym are always happy to help you learn a new technique, craft a custom exercise plan, and help you reach your fitness goals. Why not get in touch and start your new fitness journey today?
Other Exercises