How to do a Bear Crawl

How to do a Bear Crawl
Want to learn how to do a bear crawl? This is a really fun exercise, looks a little silly, and is an excellent workout for your shoulders, back, and core. So, what are you waiting for? Check out our step-by-step guide on how to do the perfect bear crawl—safely and effectively.
What is a bear crawl?
If you're looking to build strength and endurance—and have a bit of fun—while working out, the bear crawl may be for you. On the surface, it might look like you're simply crawling across the floor, but the form and movement is crucial to see the upper body and core benefits to this exercise.
How to Do a Bear Crawl: A Step-by-Step Guide
Here's the correct way to do a bear crawl. All you need is some open space and the correct form.
Get in a push up position, with your arms and hands straight down. Keep your back straight, parallel to the floor.

Straight crawling forward, moving your left hand and right foot at the same time; then switch, moving your right hand and left foot at the same time.

As you crawl, don't let your knees touch the floor, and keep your hips low (imagine your crawling through an obstacle course—you don't want your hips or back to hit whatever obstacle is above you).
And that's the bear crawl! Don't forget to keep your core tight and your back straight; otherwise, you'll develop bad form and ignore the muscle groups that need it most.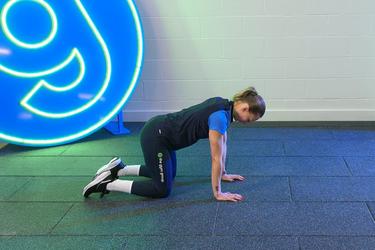 1/3
Want to learn more?
Bear crawls require no equipment, but they do require good form. If you're looking for a more guide workout, why not get in touch with one of the friendly personal trainers at your local Gym? They're on hand and happy to help you devise a custom workout plan, learn some new techniques, and achieve whatever fitness goals you might have.
Other Exercises