How to do a Wall Sit

How to Do a Wall Sit
Read to feel the burn? Welcome to our handy guide on how to do a wall sit, one of the most famous (or infamous) exercises which requires no equipment other than a wall. Wall sit benefits include the fact that they require no equipment, but they're also a great way to burn calories and build up your endurance. Keep reading to learn how to do the perfect wall sit.
What is a wall sit?
You've probably already tried one of these at some point: leaning your back against the wall, making your knees parallel to the ground, and seeing how long you can hold the position before the burn gets to you. But this is actually a genuine, useful exercise, especially when done correctly and with proper form. Get the full step-by-step guide below.
How to Do a Wall Sit: A Step-by-Step Guide
Here's the correct way to do a wall sit.
Stand up straight with your back against a wall.

Take a step from the wall, keeping your feet shoulder width apart.

Lean back against the wall, and lower yourself until your upper legs are parallel to the floor. Your knees should be at a right angle.

Hold this position, keeping your hands back against the wall or crossed at your chest. This is all it takes to do a wall sit!
Wall sits benefit your quads, legs, and overall posture and endurance. We recommend trying to do three wall sits at 30 seconds to a minute each, but it's really up to you to gauge your limits if you're starting out.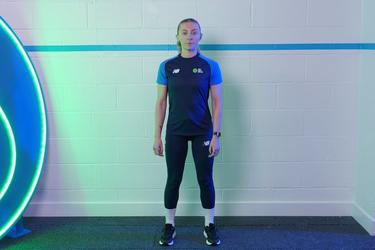 1/5
What to learn more?
From wall sits to more advanced workouts using equipment, the friendly personal trainers at your local Gym are on hand and happy to help you smash your fitness goals, whether you're a gym pro or new to exercise. Get in touch and get started today.
Other Exercises