How to do a Single Leg Squat

How to Do a Single Leg Squat
Looking for a good leg exercise which requires no equipment? The single leg squat works out the quadriceps and hamstrings, and it's pretty easy to do. Keep reading to learn how to do a single leg squat, a variation of the classic squat with a twist.
What is a single leg squat?
Squats are a simple strength exercise, named because they mimic a squatting position. The single leg squat is a variation of the traditional squat which—you guessed it—involves squatting while standing on one leg. Just be sure to do sets for both legs so you stay balanced and avoid injury.
How to Do a Single-Leg Squat: A Step-by-Step Guide
Here's the correct way to do a single leg squat.
Stand up straight, with your feet shoulder-width apart and your hands at your side.

Raise one leg forward, making a 45-degree angle from your other leg. Keep your toes pointing up and your knee relaxed. Feel free to stick your arms forward to help you balance.

Squat down as if you were going to sit in a chair, keeping your back straight.

Gently reverse the motion, returning to your original position from step 2. You've now done one squat!
Body position is very important for safety and effectiveness, so be sure to keep your chest out and back straight throughout the exercise. Try aiming for three sets of 12 squats per workout, but number and frequency will vary based on your fitness goals—and don't forget to do one set for each side of the body.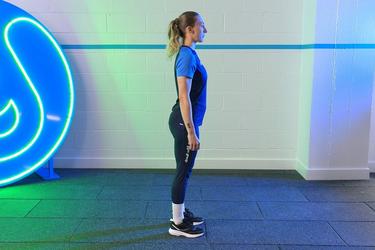 1/4
Want to learn more?
If you want to learn how to incorporate squats or other exercises into your personalised workout routine, our friendly personal trainers are on hand at your local Gym, where they'll work with you to craft a routine which matches your fitness goals.
Other Exercises