How to do a Push Up

HOW TO DO A PUSH UP:
A STEP-BY-STEP GUIDE
Looking to perfect your push up technique? Well, you're in luck! Check out our step-by-step guide to mastering this fitness favourite to get the most from your workout routine.
WHAT IS A PUSH UP?
Push ups are a popular exercise designed to target loads of important muscles in your upper body, including your arms, core, and shoulders. While they're easily one of the most well-known workouts out there, nailing your technique to get the full benefits can be tricky.
HOW TO DO A PUSH UP STEP-BY-STEP
Here's how to do a push up correctly:
Get down on all fours and move into a plank position, lifting your upper body with your arms extended straight beneath your shoulders, and raising your feet to rest on your toes.

Keep your back straight while you do this, forming a straight line down from the top of your head to your feet to maintain a neutral spine.

Bend your elbows and slowly lower your body down until you're hovering above – and not touching – the ground.

As you bend, your elbows should be at about a 45-degree angle to your body.

Now push back through your arms to come back up into your starting position.
Do's and Don'ts
DO maintain control and move slow and smooth.

DO breath naturally.

DON'T hold your breath.
It's that simple! If you find standard push ups too challenging, you can make them easier for yourself by resting on your knees instead of your toes, with your feet crossed at your ankles.
Repeat the exercise as many times as you like, making sure to take regular breaks for recovery.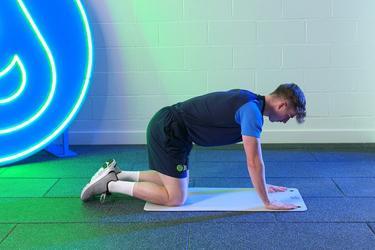 1/6
WANT TO LEARN MORE?
While simple in concept, push ups can be a challenging exercise to master and do right. Get in touch with one of our friendly personal trainers at your local Gym to help you perfect your technique and nail your fitness routine.
Other Exercises