How to Do Pull Ups

HOW TO DO PULL UPS
Want to learn how to do pull ups? This hard-to-master but rewarding bodyweight exercise works your upper-body – and especially your upper back. For strong traps, lats, and rhomboids, there really are few workouts that can beat the humble pull-up
WHAT ARE PULL UPS?
Unlike chin ups, a pull up more emphasis on your upper body, including your chest and back. This is because your hands are facing out away from you which forces you to squeeze your lats in an effort to get over the bar.
Pull ups help you correct imbalances in your upper-body, because if some muscle groups are weaker than others then it makes the pull up harder to perform. With persistence and technique, you can correct these imbalances and start crushing those pull-up sets.
HOW TO DO PULL-UPS: A STEP-BY-STEP GUIDE
Here's how to do a perfect pull-up:
Grab the bar with your hands slightly further than shoulder-width apart, using an overhand grip. (Your palms should be facing away from you, not towards like a chin-up.)

Start to hang from the bar, with your legs suspended. If it helps, cross your legs together so they don't touch the floor – this will also help you evenly distribute your weight.

Engage your core and squeeze your shoulder blades together, then pull yourself up.

Keep going until your chin is over the bar, then hold this position for a moment

Lower yourself, in a slow and controlled manner. Don't let yourself just drop or you'll miss half the workout.

Repeat.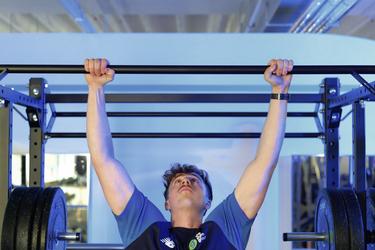 1/5
WHAT IF I CAN'T DO ONE PULL UP?
Pull-ups are challenging for beginners. Fortunately, there are progressing exercises you can do to strengthen your upper body. One of those is the 'negative pull-up.'
Negative pull-ups involve lowering yourself slowly from the 'top' position, so rather than pulling yourself up and down, you're just lowering yourself down. This develops the muscles used in a pull-up and can even out any muscular imbalances that are making a 'classic' pull-up more trying.
Once you're more comfortable, you can try band-assisted pull-ups which reduces the amount of weight you're pulling up and over the bar. These are great for progression and allow you to experience the full range of motion needed to execute a proper pull-up.
WANT TO LEARN MORE?
Lifting weights takes a lot of effort, so you want to make sure you're getting the most out of your workout routine. The friendly personal trainers at your local Gym are on hand to discuss technique, create an individualised fitness plan, and help you smash your fitness goals. Get in touch to learn more.
Other Exercises