How to do a Reverse Fly

HOW TO DO A REVERSE FLY
Want to learn how to do a reverse fly? A great workout for the upper back and shoulders, the reverse fly is one of those exercises that looks simple, but it's important to get the basics right to avoid injury or putting in lots of effort or low-to-no gain. Keep reading to get our full step-by-step guide on how to do the perfect reverse fly.
WHAT IS A REVERSE FLY?
Fly exercises work out the upper body, and they're relatively straightforward—but don't forget to maintain good form to protect your spine and shoulders. Also known as a rear delt fly or inverted fly, the reverse fly requires only a couple of dumbbells and proper form. If you've got those, your shoulders and posterior deltoids will see the benefits.
HOW TO DO A REVERSE FLY: A STEP-BY-STEP GUIDE
Here's the correct way to do a reverse fly.
Grab two dumbbells with an overhand grip.

Push your hips backward in a hinge motion, bringing your chest parallel to the floor (or as close to parallel as you can comfortably go).

Raise your arms outward to the side, lifting until your arms are perpendicular to the rest of your body.

Lower your arms in a reverse motion, keeping your head facing forward the whole time. You've now done one reverse fly!
Do's and Don'ts
DO keep your back straight. If you curve your spine and shoulders by hunching over, you risk hurting your back.

DON'T swing the weights. By taking it slow, breathing, and moving deliberately, you'll ensure your arms are doing the work instead of simply being pulled up and down by the dumbbells' gravity.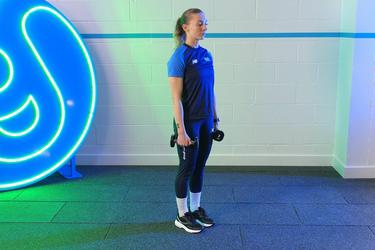 1/3
WANT TO LEARN MORE?
If you're ready to take your fitness game to the next level, why not get in touch with one of the friendly personal trainers at your local Gym? They'll help you create a workout plan that suits you and your individual needs and goals, whether you're a gym veteran or completely new to fitness.
Other Exercises