How to do a Dumbbell Row

HOW TO DO A DUMBBELL ROW?
Want to learn how to do a dumbbell row? This is a good exercise for a variety of fitness levels, since you can adjust the difficulty based on the weight of your dumbbell. It's also an exercise which trains one side of the body at a time, so you'll need to do an equal number of sets per arm.
Ready to get rowing? Read on to learn how to do the perfect dumbbell row
WHAT IS A DUMBBELL ROW?
Also known as a one-arm dumbbell row, the dumbbell row will help build muscles in your back, and it'll improve strength in your shoulders and upper arms. As with any exercise involving weights, even relatively light dumbbells, it's important to maintain good form to prevent injury.
HOW TO DO A DUMBBELL ROW: A STEP-BY-STEP GUIDE
Here's the correct way to do a dumbbell row.
Stand on the right side of a weights bench, and kneel your left knee on the bench. Lean forward with your left hand and grab the bench for stability.

Bend down so your back is parallel to the floor, and grab the dumbbell from the floor with your right hand using an underhand grip.

Raise the dumbbell up towards your chest.

Reverse the motion, gently lowering the dumbbell until your arm is extended towards the floor. You've just down a single one-arm dumbbell row!
We recommend starting out with four sets of four reps, just to get used to the form. You can scale this up as you become more familiar with the exercise. Remember to maintain good posture, and don't forget to conserve your energy, because you'll need to perform the exercise on the opposite side of the bench and body afterwards.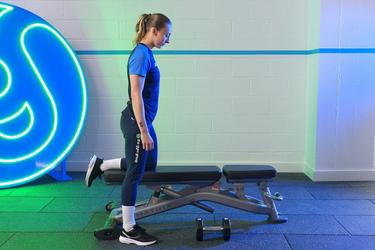 1/4
WANT TO LEARN MORE?
Dumbbell rows are a great back exercise, and they require relatively little equipment: just a dumbbell and weight bench. If you're looking for guidance on more advanced workouts, our friendly personal trainers at your local Gym are on hand to help you take your fitness game to the next level.
Other Exercises