How to do a Chin Up

HOW TO DO A CHIN UP
Want to learn how to do chin ups? This bodyweight exercise is all about the arms and back, but unlike the pull-up, the chin-up places more emphasis on your biceps when hauling yourself up and down. Keep reading to learn how to do chin-ups effectively and safely.
WHAT ARE CHIN UPS?
Chin ups are effectively an underhand version of the pull-up – like the pull-up they involve grabbing a bar and pulling yourself up. They are a tricky move to master and very easy to do wrong (or to cheat), but when done right, they add size to your arms in a way curling just can't. Let's begin.
HOW TO PERFORM CHIN-UPS: A STEP-BY-STEP GUIDE
Here's how to perform a perfect chin-up.
Grab the bar with your hands shoulder-width apart, using an underhand grip. (Your palms should be facing towards you, not out like a pull-up.

Start to hang from the bar, with your legs suspended. If it helps, cross your legs together so they don't touch the floor – this will also help you evenly distribute your weight.

Engage your core and push your shoulder blades together, then pull yourself up.

Keep going until your chin is over the bar, then hold this position for a moment

Lower yourself, in a slow and controlled manner. Don't let yourself just drop or you'll miss half the workout.

Repeat.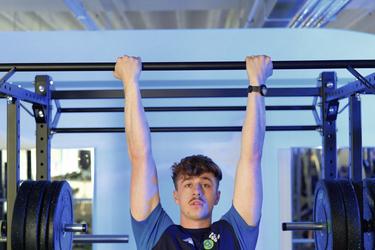 1/4
WHAT IF I CAN'T DO ONE CHIN UP?
If you're having trouble completing chin-ups, try doing 'negative' chin-ups.
Negative chin ups involve lowering yourself slowly from the 'top' position, so rather than pulling yourself up and down, you're just lowering yourself down. This develops your back and biceps and are an excellent place to start if regular chin-ups are beyond your current capabilities.
Once you're more comfortable, you can try band-assisted chin-ups which reduces the amount of weight you're pulling up and over the bar. These are great for progression and allow you to experience the full range of motion needed to execute a chin-up.
WANT TO LEARN MORE?
Lifting weights takes a lot of effort, so you want to make sure you're getting the most out of your workout routine. The friendly personal trainers at your local Gym are on hand to discuss technique, create an individualised fitness plan, and help you smash your fitness goals.
Other Exercises