How to do an Arnold Press

HOW TO DO AN ARNOLD PRESS
Want to learn how to do an Arnold press? Named after Arnold Schwarzenegger himself, this technique is a variation of the overhead press and can be effective at building shoulder bulk. It's important to use proper form for safety as well as effectiveness, so keep reading to learn how to do an Arnold press—properly.
WHAT IS AN ARNOLD PRESS?
The Arnold press is a variation of the overhead press, a weight training exercise which builds mass in the shoulders and arms. This particular variation was named after the Terminator himself, who apparently relied on the method to bulk up. As with any exercise which involves lifting weights, however, there's a right way and a wrong way.
Here's the right way.
HOW TO DO AN ARNOLD PRESS: A STEP-BY-STEP GUIDE
Grab a bench and ensure that it is placed on the maximum incline position. Pick up the your dumbbells and rest your arms at your side.

Raise the dumbbells to shoulder level with palms facing towards you.

Rotate arms into a shoulder press position, then push up until your arms are fully extended. Your palms should now be facing forwards.

Reverse the motion, bringing your elbows up against your body and returning your arms and the dumbbells to their original position at shoulder level.
Do's and Don'ts
DO exhale as you lift the weight up.

DON'T raise your back away from the bench during the lift.
This exercise can be strenuous on the shoulder blades, so it's not for the beginner weightlifter. If you begin to experience any pain at all, you should stop the workout or switch to another exercise.
When starting out, try doing three sets of six reps to see how you get on. You can switch up the exercise by performing it seated, as well, but remember to keep your posture straight.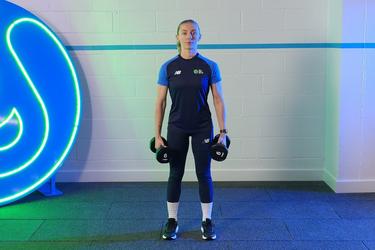 1/5
WANT TO LEARN MORE?
Exercise like this are a little more advanced, and bulking up should always be done safely and responsibility. If you're looking for some guidance, our friendly personal trainers at your local Gym location are more than happy to work with you and devise a workout routine that will help you smash your fitness goals.
Other Exercises