How to do a Dumbbell Bicep Curl

HOW TO DO A DUMBBELL BICEP CURL
Want to learn how to do a dumbbell bicep curl? Also known as dumbbell curls, this beginner dumbbell exercise is perfect for building strength in those upper arm muscles. They're also very easy to do, making them the perfect intro to working with dumbbells. Keep reading to learn all about the dumbbell bicep curl and how to do it safely and effectively.
WHAT IS A DUMBELL BICEP CURL?
Because this exercise is so simple, there are actually a few common mistakes people make because they don't think they need to look out for them. Remember to focus on proper form rather than going as quickly as you can, and don't rely on gravity to pull the weights down. Instead, really focus on your arm movements, and let your muscles do the work throughout the full form.
All good? Then let's curl those biceps.
HOW TO DO A DUMBBELL BICEP CURL: A STEP-BY-STEP GUIDE
Here's the correct way to do a dumbbell bicep curl.
Hold a dumbbell in each hand, keeping your feet shoulder-width apart and your arms resting at your sides.

Bend your elbows and lift your lower arms, keeping your back straight and at a 45-degree angle. It's okay to look downward during this movement in bringing the dumbbells up towards your shoulders. Be sure not to move your elbows, however; it's just your lower arms and the dumbbells which should change position during this exercise.  

Reverse the motion, lowering the weights to their original position. You've now done one dumbbell bicep curl!
Do's and Don'ts
DO start out with three sets of eight curls, and adjust as you become used to the weight.

DO keep your core tight during the workout, as this will help you maintain balance and good posture.

DON'T rush through the motions. The point here isn't speed—it's to work your biceps, so taking it slowly and deliberately is key.

DON'T use weights that are too heavy for you. You should be able to lift them with some resistance, but nothing that tires you out after just a few curls. Once you've mastered your current weights, then you can scale up to something heavier.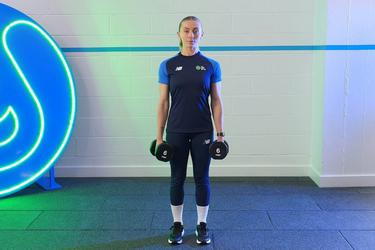 1/4
WANT TO LEARN MORE?
Dumbbell bicep curls are a great exercise for strength trainers and those looking to build their arm muscles, but good form and safety are key with any weightlifting regimen. If you need guidance, our friendly personal trainers at your local Gym are on hand to help you find your fit and level up your fitness game today.
Other Exercises