How to do a Barbell Bicep Curl

HOW TO DO A BARBELL BICEP CURL
Barbell bicep curls are some of the most common exercises we see at The Gym Group, but how do you do them properly? This bicep strength exercise is all about maintaining a strong kinetic chain and squeezing those biceps as you curl the bar towards your chest. Keep reading to learn how to do a barbell bicep curl safely and effectively.
WHAT IS A BARBELL BICEP CURL?
Like other curls, barbell bicep curls are all about isolating your bicep muscles. Strong biceps help you perform heavier deadlifts, barbell rows, and many other compound movements – so it pays to give your biceps that extra attention. They work best as part of a well-rounded workout.
HOW TO DO A BARBELL BICEP CURL: A STEP-BY-STEP GUIDE
This is a relatively straightforward exercise, but don't sacrifice form in favour of heavier weights!
Stand up straight, with your feet shoulder-width apart and your hands holding the barbell in an underhand grip. Your hands should be positioned just outside your hips.

Curl the bar towards your chest, engaging your core and keeping your chest up and shoulders back. You need to keep your elbows tight so that the biceps can be fully engaged. We find gripping the bar hard helps keep things nice and tight.

Feel for your bicep contraction, and hold it for a moment. We're working our biceps here, so ensure you actually feel the contraction and pause in that spot before you lower.

Lower the bar, in a controlled manner forms the final part of the exercise. Aim to lower the bar in between 2 and 4 seconds.

Repeat, for as many reps feel comfortable.
There you have it – a barbell bicep curl. At first, keep the weight low so you can learn the right technique, then slowly increase the number of reps, then weight. If a barbell isn't available, then you can still isolate your biceps with a dumbbell curl.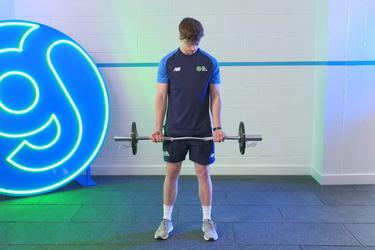 1/5
WANT TO LEARN MORE?
Lifting weights takes a lot of effort, so you want to make sure you're getting the most out of your workout routine. The friendly personal trainers at your local Gym are on hand to discuss technique, create an individualised fitness plan, and help you smash your fitness goals. Get in touch to learn more.
Other Exercises