How to do Toe Touches

HOW TO DO TOE TOUCHES
Want to learn how to do toe touches? This core exercise is all about stability and balance, and mastering toe touches are excellent additions to a bigger core workout.
WHAT IS A TOE TOUCH?
Not to be confused with the gymnastics move with the same name, a toe touch is a core exercise performed sitting on the floor with your legs and arms outstretched. Toe touches work great as part of a well-rounded fitness routine and work your abs – including the prominent 'rectus abdominus.'
HOW TO DO TOE TOUCHES: A STEP-BY-STEP GUIDE
There are a few different variations for how to perform a toe touch, so here's our favourite to get you started.
1.Lay on your back, with your legs extending up vertically towards the ceiling.
2.Extend your arms forward, keeping them straight. They should be parallel to your legs.
3.Crunch forwards, reaching up to your toes with your outstretched arms. Your head, shoulders, and upper back should come off the ground when performing a toe touch.
4.Lower yourself, and repeat steps 2 and 3. Aim for 8-12 reps and 3 sets.
Do's and Don'ts
DON'T strain your neck whilst performing the toe touch movement – your upper body should propel you towards your feet as you crunch your core.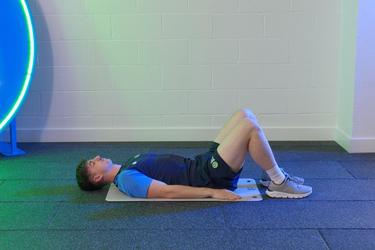 1/5
WANT TO LEARN MORE?
Some bodyweight exercises can get tricky, so ensure your form is good to get the most out of your workout routine. The friendly personal trainers at your local Gym are on hand to discuss technique, create an individualised fitness plan, and help you smash your fitness goals. Get in touch to learn more.
Other Exercises