How to do a Sit Up

HOW TO DO A SIT UP:
A STEP-BY-STEP GUIDE
Want to learn how to do the perfect sit up? It may be a workout basic, but nailing your form is essential to seeing results. Follow our step-by-step guide to doing them the right way.
WHAT ARE SIT UPS?
A long-time workout favourite, sit ups are a great exercise to help boost core strength and target your abdominal muscles. They're incredibly accessible to people of all fitness levels and rely on nothing more than your own body weight – no equipment required!
HOW TO DO A SIT UP STEP-BY-STEP
As we said, there's no single way to do a sit up. But we're going to walk you though how to do a common dumbbell variant in our steps below:
Get started by lying on your back on the floor, bending your knees and planting your feet flat on the ground.

Lightly rest your hands slightly behind and on either side of your head, making sure you're in a comfortable position.

Bend your hips and waist to slowly bring your upper body off the ground, making sure you keep your feet on the ground and your chin away from your chest.

Bring your chest up as close to your knees as you can, before slowly lowering yourself back down to the starting position.
Do's and Don'ts
DO relax your neck.

DON'T lift your feet off the ground.
That's all it takes to do this fitness-favourite correctly. If you find them too challenging, you can make it easier for yourself by lifting your feet to hover slightly above the ground, crossing them over at the ankles. You should still focus on lifting your upper rather than your knees, but it's a small adjustment that can make the movement a bit easier.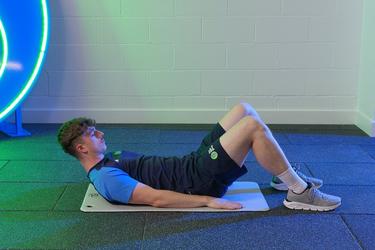 1/4
WANT TO LEARN MORE?
Sit ups are a great way to strengthen your core with a simple technique and no equipment needed. But if you need guidance, get in touch with one of our friendly personal trainers at your local Gym to help you perfect your form.
Other Exercises