How to do a Renegade Row

HOW TO DO A RENEGADE ROW: A STEP-BY-STEP GUIDE
Want to learn how to do a renegade row? Check out our handy step-by-step guide to master your technique for this amazing all-round exercise.
WHAT IS A RENEGADE ROW?
Renegade rows are a combination of a plank and a dumbbell row, designed to target your upper body, back, and biceps. They're an all-round effective exercise effective for building strength, and can be done with easily accessible equipment at home or at the gym.
HOW TO DO A RENEGADE ROW
Follow our steps to do a renegade row correctly:
Start off by grabbing a pair of dumbbells and getting into your starting position, essentially positioning yourself in a press up with a dumbbell in each hand.

Make sure your arms run directly down from your shoulders and that your feet are about shoulder-width apart.

When you're ready, lift one of your weights up to your body and towards your rib cage, keeping the dumbbell close to you and your elbow pointing upwards.

As you do this, focus on keeping your body still to avoid twisting your torso.

Lower your arm back down to the ground, and repeat on the opposite side.
And there you have it. You just completed the perfect renegade row. You can either repeat these with the same arm for your entire set, or alternate for every rep – it's up to you!
Do's and Don'ts
DO try this with one dumbbell if your balance isn't quite there yet.

DON'T twist your back to lift the dumbbell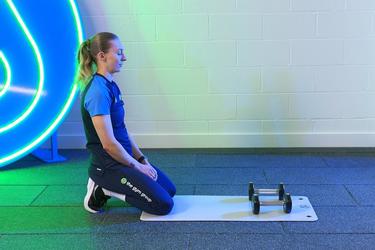 1/6
WANT TO LEARN MORE?
Renegade rows are a great all-round exercise for your routine but can be a challenge to do correctly. Get in touch with one of our friendly personal trainers at your local Gym to help you perfect your technique today.
Other Exercises