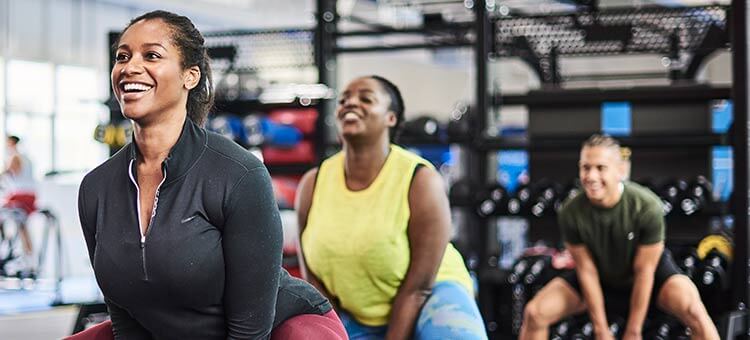 EXERCISE & FITNESS CLASSES NEAR YOU!
GET MOVING. STAY MOTIVATED.
It doesn't matter if your goal is losing weight, toning up, or just 'getting fit', we've got a stacked timetable of exercise classes to suit your fitness needs, your availability, or your body type - from beginner through to advanced.
Expect classes throughout the day including HIIT; Fit Pump; Legs, Bums & Tums; Circuits; Flexi-stretch; and Abs Blast.
Classes are that perfect mid-point between solo workouts and Personal Training.
Between our top-notch instructors, world-class equipment, and no-contract commitments, you'll find a class to fit your work/life balance, budget, and fitness aspirations.
Bookings can be made in the Member Area or The Gym App.
FIND GYM CLASSES NEAR YOU
Simply visit our class timetable page, select your gym and see what classes are on.
STRENGTH IN NUMBERS
Studies show that group exercise keeps you motivated and more likely to stay the course. If you're having trouble keeping yourself disciplined, try a class to get you back on that routine. Support and accountability are a powerful combo.
FIND YOUR COMMUNITY
Slaying fitness goals with a bunch of like-minded people? Yes, please. Meeting new people and exercise go hand in hand. And who knows, you could meet your next spotter.
IT'S STRUCTURED
The agenda's set, you can stop thinking and start moving. All our exercise and fitness classes are designed by our top-notch instructors, who'll set the pace and keep you engaged throughout the class.
IT'S FUN
That mix of music and energising movement. The varied classes. The atmosphere. There's no other way to put it, exercise classes are FUN. Why not find out for yourself?
GROUP EXERCISE, SOUND LIKE IT'S FOR YOU? THEN GET INVOLVED.
TERMS & CONDITIONS
For the full Terms and Conditions see the 'Legal Stuff' webpage here.