Don't worry if you are looking to join, you can still sign up now though to be ready for when we reopen, simply pay for your first month and then you won't pay anything until a month later after we reopen. Joining fees may apply.
Coronavirus Information
We want to keep you informed on the latest coronavirus information.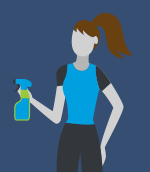 Student Membership Offer
Our new deal is available now! From only £79 for 6 months